Stand Out and Stay Safe: The Importance of Portwest High Visibility Vests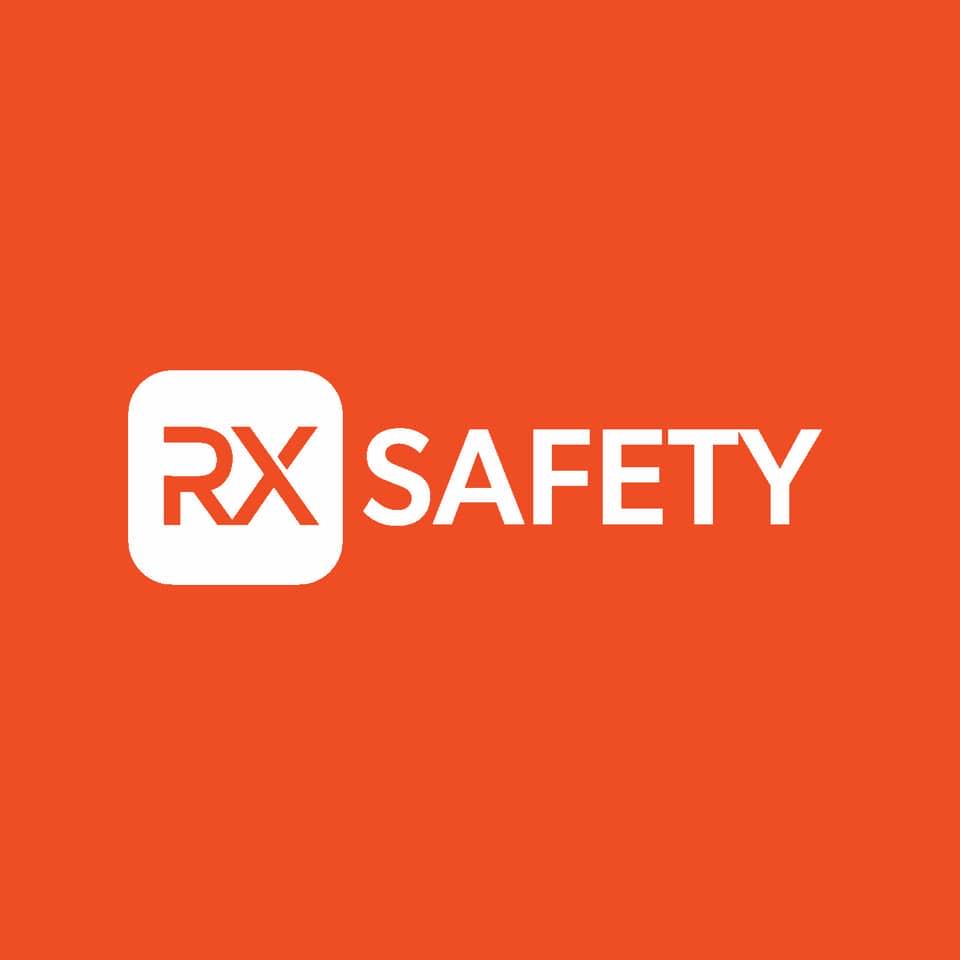 08/04/2023- Middlesex, NJ: When it comes to safety apparel, one brand stands out for its commitment to quality, innovation, and protection – Portwest. With a rich heritage dating back to 1904, Portwest has become a global leader in the design and manufacture of safety clothing and equipment. Their dedication to excellence has made them a trusted name in the safety wear market, catering to diverse needs and ensuring every customer can find the perfect safety solution.
In many work environments, visibility plays a critical role in ensuring the safety of employees and workers. Whether it's construction sites, road work zones, warehouses, or other hazardous locations, low visibility can pose significant risks. High visibility vests are designed to address this concern effectively. These vests, also known as hi-vis vests or safety vests, are crafted from fluorescent materials with reflective tapes, making wearers highly visible, even in low-light conditions. By enhancing visibility, these vests help prevent accidents and ensure that workers stand out in challenging environments, reducing the chances of potential accidents and injuries.
Portwest C470 Hi-Vis Safety Vest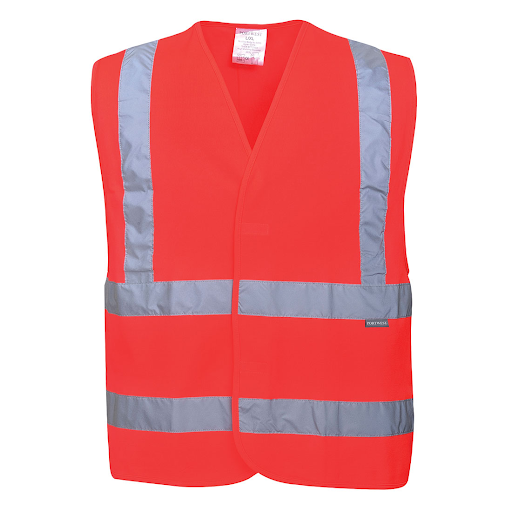 The Portwest C470 is a classic and reliable high visibility safety vest suitable for various industries. Its fluorescent fabric and reflective tape ensure visibility in both day and night situations. It is lightweight and comfortable to wear, allowing workers to move freely while staying safe. With a focus on durability and performance, the Portwest C470 is an excellent choice for those seeking a simple yet highly effective safety solution.
Portwest C472 Hi-Vis Safety Vest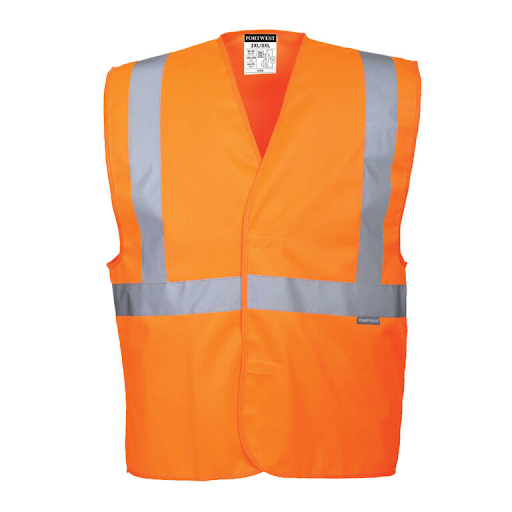 The Portwest C472 is designed with functionality and versatility in mind. This vest features multiple pockets, providing convenient storage for tools and essentials, reducing the need for additional equipment belts. The durable polyester fabric ensures long-lasting wear, while the reflective tapes offer outstanding visibility. Whether in busy construction sites or other demanding environments, the Portwest C472 keeps workers protected and organized.
Portwest PW309 Hi-Vis Executive Safety Vest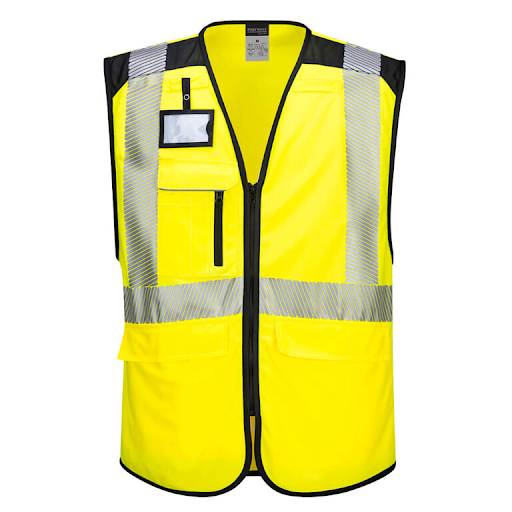 For those seeking a more sophisticated safety vest, the Portwest PW309 Executive Vest fits the bill. With a stylish design and premium finish, this vest is ideal for supervisors and professionals who need to combine safety with a professional appearance. It boasts ample storage options, including a phone pocket and ID holder, making it practical for various roles. The breathable fabric ensures comfort, even during extended wear.
All the high visibility safety vests offered by Portwest meet stringent industry safety standards. Portwest's commitment to quality ensures that these vests provide maximum protection, giving workers peace of mind while on the job.
RX Safety and Portwest: Your Ultimate Safety Gear Combination
When it comes to safety on the job, Portwest high visibility vests stand out as a reliable and effective solution. Whether you're working on a construction site, in a warehouse, or any other hazardous location, these vests ensure that you remain visible and safe. With RX Safety as your trusted dealer, explore the extensive collection of Portwest high visibility vests and make the right choice to protect yourself and your team.
As an authorized seller of Portwest hi-vis vests, RX Safety takes pride in offering a comprehensive range of high-quality safety products. With a focus on customer satisfaction and safety, RX Safety ensures that workers and employees have access to the best safety gear available in the market. When you choose Portwest high visibility vests through RX Safety, you can be confident in the product's authenticity and the excellent service provided. If you have any questions, talk to our experts through our chat, e-mail us at service@rx-safety.com, or give us a call at +1 888 245 6638.
About Us:
Rx Safety is an American manufacturer of affordable prescription safety glasses and performance eyewear. A family-owned and operated business, with a state-of-the-art digital ophthalmic lab and the online store providing affordable, top-of-the-line prescription safety glasses, sunglasses, and performance eyewear on the market. All the safety glasses always meet or exceed the ANSI Z87+ standards for high impact, to be safe and secure while working in any kind of hazardous environment. Besides standard safety glasses, we offer a broad selection of prescription shooting and tactical glasses, prescription youth sports glasses, fishing, and motorcycle glasses designed and tested to meet our high standards. As an authorized distributor of Wiley X, Bobster, ESS, and BodySpecs, Rx-Safety.com offers a full line of prescription safety glasses straight from the manufacturer at wholesale prices.
Like us: https://www.facebook.com/RxSafety/
Follow us: https://www.instagram.com/rx_safety/
Subscribe us: https://www.youtube.com/user/RXSafetyVideos/
Retweet us: https://twitter.com/RXSafetyEyewear/
Contact Detail:
Company Name: RX Safety Glasses
Contact Person: Ryan Phillips
Email: Send Email
Address: 123 Lincoln Blvd, Middlesex
State: NJ 08846
Country: United States
Website Url: https://rx-safety.com/


Source: www.PRExhibition.com