Introducing Polytron Light Blue: The Newest Color in Our Lead Apron Collection


06/21/2023 – Lutz, Florida: Attenutech loves when it's able to offer more variety and options to its dedicated customer base. We want our customers to know we're constantly out there looking for the latest choices and bringing them back to you in our ever-growing catalog of items.
With that said we're happy to announce the launch of a new addition to the overall lead apron collection that Attenutech continues to grow. This is the addition of a new color known as Polytron Light Blue. As a major provider to those in the medical field and other industries, we understand the importance of both safety and style and always have choices once it comes time to get a new batch of lead aprons to help replace that old lead apron.
This fresh and modern color option joins the rest of our collection and combines form and functionality. Below we'll share with you some of the items that have added Polytron Light Blue to their collection.
Attenutech Custom Vest and Skirt Full Overlap Lead Apron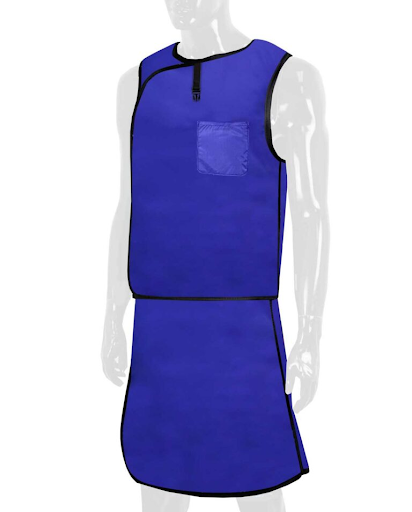 This is a two-piece item that you can get in the new color that's also a full overlap. It comes in six different sizes from XS all the way to XXL. The vest helps to cover the front and back of the body, while the skirt lead apron helps to protect from the waist down to just above the knees. These are easy to put on and off with their Velcro enclosure, and you're able to get this model in two different levels of protection, either 0.35mm or 0.50mm Pb lead equivalency, depending on your requirements and the intended usage of this lead apron. Both items meet ASTM F3094-14 testing standards.
Attenutech Custom Flexiback Frontal with Buckle Closure Lead Apron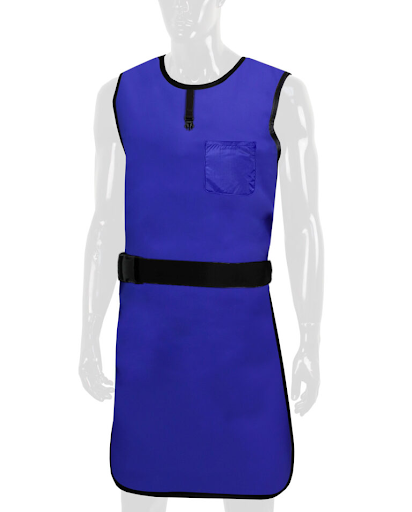 Another option to consider where you can get it in the new color is the Flexiback Frontal Lead Apron. It is one piece that covers from the shoulders down to the thighs. It comes with adjustable back enclosures that help to make this lead apron a more comfortable option that also has a buckle closure around the waist to also be much more secure.
You can also customize this with your choice of lightweight lead or go completely lead-free. You will have the same two protection Pb lead equivalency options as the above, and this is also available in six different sizes from XS to XXL. Regarding industry standards, this lead apron meets ASTM F3094-14 requirements.
Attenutech Custom Maternity Lead Apron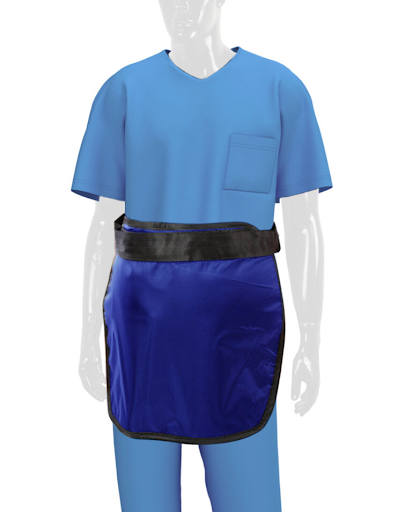 This lead apron is meant to be used with other lead apron options, specifically to cover the sensitive areas of a pregnant woman. That way, combined with the other lead apron, you'll reach a 1.00m Pb lead equivalency, which is the requirement in most states. Whichever core material you choose, this lead apron still meets ASTM F3094-14 standards and is quite easy to put on and adjust while keeping the expecting mother comfortable.
As you may already know, you can fully customize many of our options to suit your needs, from material choice to color, including this new one. So you can have a different lead apron for each department in a different color if you choose so.
In conclusion, Attenutech is thrilled to introduce Polytron Light Blue as the newest color in our expanding lead apron collection. We pride ourselves on offering a wide range of options to cater to the needs of our valued customers. As a trusted provider in the medical field and other industries, we understand the importance of both safety and style when it comes to selecting lead aprons. Polytron Light Blue adds a fresh and modern touch to our collection, combining form and functionality seamlessly. As always, we offer customization in terms of material choice and color, allowing you to create a unique lead apron for each department if desired. Explore the versatility of Polytron Light Blue and elevate your safety gear with Attenutech. Give us a call at +1 800-757-2703 or service@attenutech.com and order yours.
About Us: AttenuTech® provides radiation protection products for physicians, techs, nurses, and staff who utilize Fluoroscopy for imaging procedures. At AttenuTech®, we are dedicated to implementing the best radiation protection in high-risk surgical environments. With a manufacturing presence in the United States and Europe, we guarantee the highest quality of products and services in the radiation protection industry. We provide affordable and applicable solutions through state-of-the-art technologies and modern equipment. All AttenuTech® products are CE Certified, and manufactured with strict adherence to applicable laws, standards, and regulations, assuring the highest levels of protection, confidence, and quality.Contact Information:
Like us: https://www.facebook.com/attenutech/
Follow us: https://www.instagram.com/attenutech_radiationprotection
Retweet us: https://twitter.com/attenutech
Contact Detail:
Company Name: AttenuTech®
Contact Person: Ryan Phillips
Email: Send Email
Phone No: +1 813-909-8330, 1-800-757-2703
Address: 24008 State Road 54 Lutz
State: FL 33559
Country: United States
Website Url: https://www.attenutech.com/

Source: www.PRExhibition.com