Protect Workers from Harmful Radiation with the LB 2436 Mobile Lead Barrier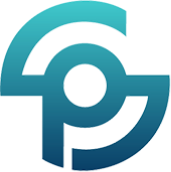 07/06/2023- Middlesex, NJ: There is no number we can put on the question of just how much is too much when it comes to X-ray protection. You want to ensure that you have as many X-ray barriers as possible and as much radiation protection as is needed if not more.
Constant exposure to X-rays and other types of radiation-emitting machinery is not safe under any circumstance. You may already have some kind of x-ray barriers or lead shields in your location, but you might want to consider getting mobile lead barriers that can follow you where you need to be.
That will give you the extra coverage you didn't initially think you needed. Then, with mobile lead barriers, you can focus on the most important thing: ensuring that whatever procedure you're doing with your patient is done correctly and quickly to minimize total exposure. Then when not in use, these mobile lead shields can easily be moved out of the way and stored until they are needed further down the line.
Even though they are mobile lead barriers, they are still going to be heavy to move around because of the durable construction that they tend to come with, which is especially true for the LB 2436
Looking closer at the mobile lead barrier LB 2436
This is a full-body radiation barrier, with 39 inches wide and 74 inches high dimensions. The clear window is 36 inches by 24 inches and also has lead protection. The non-window portion itself provides 2.0mm lead equivalency protection and is constructed from steel.
The viewing panel has the same 2.0mm equivalency in glass or 0.5mm lead equivalency if you choose acrylic. Either way, the legs that hold everything up are also made from ultra-durable steel, and you can lock in the legs when you aren't positioning the LB 2436 Mobile lead barrier.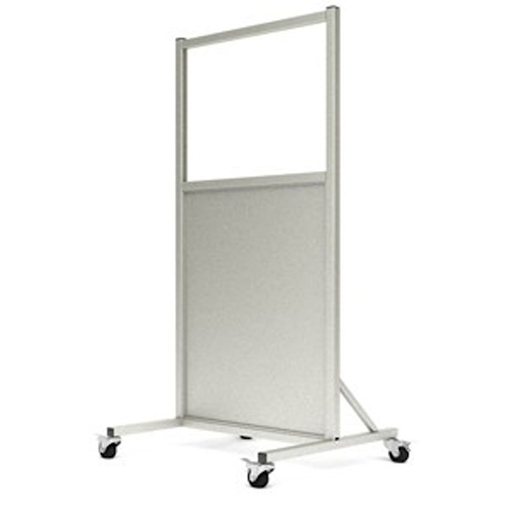 There's also a smaller version available with similar construction and the same exact window size, as well as x-ray protection provided. You also have your choice of getting this with a glass protector or an acrylic protector.
The height for this 'shorty' version is only at 64 inches with the same exact width at 39 total inches. Going with an acrylic protector will provide less radiation protection but will also make it a lot lighter and, in some cases, could be considered more durable. It will also typically come at a higher price point.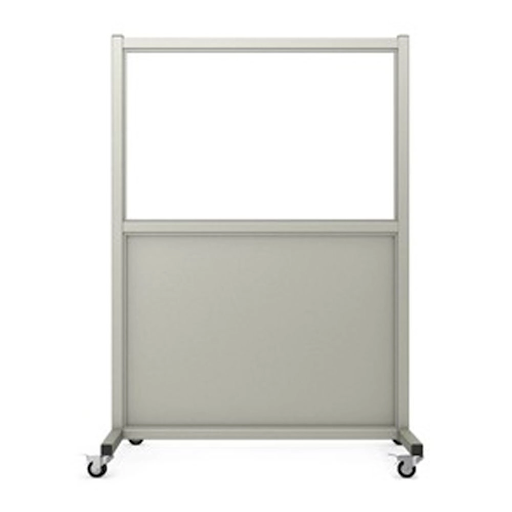 Do keep in mind, especially with the larger model, that it's best to move the barrier with two people at a time so as to reduce the chance for any injury to happen.
Consider the rest of our collection
Do keep in mind that mobile lead barriers help to round out your existing radiation protection and other x-ray barriers. At the same time, you should consider our entire collection of lead shields and barriers to ensure that you have all the much needed protection from the start. This will help protect your staff and your patients as well.
About Us:
Phillips Safety Products Inc. is the world leader in occupational safety products. Phillips Safety specializes in safety glasses for laser, radiation, welding, and glass working among others. The Company's products include laser safety glasses, radiation safety glasses, glassworking eyewear, and welding safety glasses. Phillips manufactures other safety products, including sheeting, barriers, signs, glass, and lenses. The Phillips family has been in the occupational safety industry for over 100 years and continues to play an active role in the community. Don't hesitate to be a part of the Phillips Safety family. If you need help or more information about our products, e-mail us at info@phillips-safety.com, or call us at 1-866-575-1307.
Like us: https://www.facebook.com/PhillipsSafety/
Follow us: https://www.instagram.com/phillips_safety
Subscribe us: https://www.youtube.com/@PhillipsSafety
Contact Detail:
Company Name: Phillips Safety Products, Inc
Contact Person: Media Relations
Email: Send Email
Phone No: 1-866-575-1307
Address: 271 Lincoln Blvd
City: Middlesex
State: NJ 08846
Country: United States
Website Url: https://phillips-safety.com


Source: www.PRExhibition.com